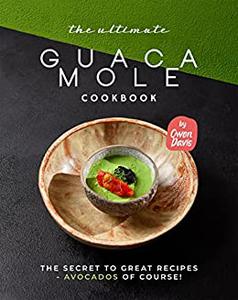 English | 2022 | ISBN: N/A | ASIN: B09YYX2134 | 120 pages | EPUB | 6.29 Mb
Are you in search of the perfect guacamole every time? Are you useless at cooking and need help making the secret to a great recipe? Are you tired of the bland, boring guacamole you find at restaurants? Would you like to add a little kick of spice to that traditional condiment and have fun while you're doing it? Well, your long search has come to an end! This easy-to-follow book contains basic and advanced techniques for making guacamole. You will learn how to make this popular Mexican dip like a pro!
The world is a melting pot of cultures. Different people from different places have different tastes, habits and beliefs. One of the greatest things about being part of a huge world is that we get to taste the delicacies of so many places without even having to move. That's one reason why food is such an important part of every culture. Each place has its own set of food recipes, vegetables, herbs and spices that are used in every dish prepared by the natives of that place.
Guacamole is one such recipe that has gained a lot of popularity in recent years. This Mexican dish is one of the most famous recipes prepared in Mexico. It originated in the region of Puebla, Mexico. In fact, it is so famous that it has become part of the diet of many people across the globe as well. Guacamole recipes are prepared using avocados, which are extensively cultivated in many parts of Mexico, especially Puebla. These plants are also grown in many parts of the world, such as in the United States and Canada. Avocados are one of the most delicious, nutritious and versatile fruits that is rich in essential vitamins and minerals.
This is a cookbook with recipes for different types of guacamole that ranges from spicy to light and fruity. You will also find some toppings and recipes in the back of the book that goes beyond just guacamole, like salsa verde or baked shrimp chips.
This book will teach you everything you need to know to prepare, store, and enjoy your own guacamole. In addition, it will help you adapt popular recipes for guacamole so that they are just as delicious as the original recipes. You will also learn how to use your guacamole in salads and as a burger topping to make delicious new recipes.
Avocados are one of the most versatile fruits. People enjoy them with breakfast cereal, on sandwiches, and even in dessert recipes. It is easy to see why so many people love avocados! You can enjoy the health benefits along with their enjoyable taste. This book will help you to make the most of your avocado crops and will even help you find ways to enjoy them if you don't grow them yourself.
Will the secret to a guacamole recipe finally be revealed? Avocados of course! These little fruits are one of the most versatile and nutritious foods - they're an amazing addition to any meal. Guacamole is just as delicious and fulfilling, but how do you get a perfect batch every time? In this guacamole cookbook, with over 50 recipes for the perfect dip, you'll learn the secrets from those who mastered it first. Includes tips and tricks for perfect results every time.
In the kitchen with a friend? Invite your friends to join you in your kitchen. It's fun to help make different recipes, and especially helpful when you need help with a recipe everyone knows. The more people there are in the mix, the more solutions to any problem that might arise.
Don't be intimidated by cooking - everyone can make something delicious. The secret to a great guacamole recipe is not in the cookbook, it's in you! What are you waiting for? Bring out the chef in you! Buy a copy of this guide and get started!

Download From Rapidgator

https://rapidgator.net/file/1734af2f8dafddd058dbba4a65869e04

Download From Nitroflare

https://nitro.download/view/C92940501AA5A76